NEW YORK (AP) — Emotionally wrenching politics, foreign conflicts and shootings at home took a toll on Americans in 2016, but they are entering 2017 on an optimistic note, according to a new poll that found that a majority believes things are going to get better for the country next year.
A look at the key findings of the Associated Press-Times Square Alliance poll:
___
 SO HOW WAS 2016?
Americans weren't thrilled with the year. Only 18 percent said things for the country got better, 33 percent said things got worse, and 47 percent said it was unchanged from 2015.
On a personal level, they were optimistic about 2017.
Fifty-five percent said they believe things will be better for them in the coming year than in the year that just concluded. That's a 12-point improvement from last year's poll.
Americans interviewed about the poll's results expressed some of that optimism.
"Next year will be better than this year, because people will have more jobs and they'll have more money to spend," said Bourema Tamboura, a Harlem resident behind the wheel of a New York car service.
"I'm hoping 2017 will be better," added Elizabeth Flynn, 62, an elementary schoolteacher from Peabody, Massachusetts. "You've got to be optimistic, and I'm going to try."
Democrats are more likely than Republicans to say 2016 was worse for the country than 2015. And Republicans are especially likely to feel that 2017 will be even better for them personally.
University of Miami professor Benjamin Alsup said he needed only three words to explain why 2016 felt worse for him: "Trump, Trump, Trump!"
Robert Greenstone, a New York commercial real estate broker, said the political discourse leading up to Republican Donald Trump's election as president played havoc with people's emotions.
"The amount of disinformation made people suspect of everything and everyone, even their neighbors," he said.
____
U.S. ELECTION LEADS TOP NEWS EVENTS
The U.S. elections top Americans' list of 10 top news events in 2016. Three-quarters called the presidential election and Trump's victory very or extremely important.
Sixty-three percent ranked mass shootings and bombings in Orlando, Florida, and in Belgium, Turkey, Pakistan and France as personally important news stories of the year.
Fifty-one percent said they found news stories about the deaths of people at the hands of police officers, or news about ambush attacks on police in three states, to be among the year's most important news events.
Fourth on the list are 43 percent who described the spread of the Zika virus as important.
The three events described by the largest percentages of Americans as not too important included the death of Muhammad Ali (50 percent), approval of recreational marijuana use in four states (43 percent), and the death of Fidel Castro (40 percent).
____
TOP MOMENTS IN POP CULTURE AND SPORTS
A majority of Americans, including 7 in 10 Midwesterners, called November's World Series win for the Chicago Cubs to end their 108-year drought memorable.
Of nine other pop-culture items tested, two were called memorable by about half of Americans: the death of Prince, David Bowie and Leonard Cohen; and the Olympic victories of the U.S. women's gymnastics team.
The two least-notable events for Americans, of the 10 possible choices in the poll, were the Angelina Jolie-Brad Pitt divorce filing and the "Pokemon Go" app game phenomenon, each described by most as forgettable.
____
RINGING IN THE NEW YEAR
About half of Americans plan to celebrate the New Year at home. About 2 in 10 plan to go out to a friend or family member's home, and 1 in 10 to a bar or restaurant. About a quarter don't plan to celebrate at all.
About 6 in 10 plan to watch the Times Square ball drop, nearly all of whom will watch on TV.
___
The AP-Times Square Alliance Poll of 1,007 adults was conducted online Dec. 9-11, using a sample drawn from GfK's probability-based KnowledgePanel, which is designed to be representative of the U.S. population. The margin of sampling error for all respondents is plus or minus 3 percentage points.
The poll is a cooperative effort between AP and the organizers of the Times Square New Year's Eve Celebration, the Times Square Alliance and Countdown Entertainment. The Alliance is a nonprofit group that seeks to promote Times Square, and Countdown Entertainment represents the owners of One Times Square and the New Year's Eve Ball Drop.
___
Online: http://www.ap-gfkpoll.com
AP-GfK Poll: Americans go to polls against backdrop of an uneven economy
By CHRISTOPHER S. RUGABER
WASHINGTON (AP) — The U.S. economy is lifting job growth and wages but not voters' spirits.
Americans are choosing a president against a backdrop of slow but steady growth that has managed to restore the economy from the crushing setback of the Great Recession. The government's October jobs report , released Friday, showed that hiring remains solid, with 161,000 jobs added. The unemployment rate is a low 4.9 percent.
Yet the recovery, the slowest since World War II, has left many Americans feeling left behind, especially those who lack high skills or education or who live outside major population centers.
"The (typical) U.S. household is in a much better spot than they were eight years ago," said Mark Zandi, chief economist at Moody's Analytics. "But it hasn't been a great decade for anyone either. You've still got a big chunk of the population who feels this hasn't worked for them."
The economy's weak spots are a top concern for a majority of voters, who say the U.S. economy is in poor shape, according to an Associated Press-GfK poll. At the same time, they say their own personal finances are good.
Fifty-three percent of voters say the economy is "poor," while 46 percent say "good," according to the poll, conducted Oct. 20-24. Yet 65 percent say their own finances are good, versus 34 percent who rate them poor.
Seventy-three percent of Hillary Clinton supporters say that economy is good; just 16 percent of Donald Trump supporters say so.
And while 60 percent of whites say the economy is poor, 60 percent of nonwhites call it good. Yet whites and nonwhites are about equally likely to say their own personal finances are good.
Consider 73-year-old Charles Muller, who lives outside Trenton, New Jersey, and describes his personal finances as fine. He has a pension from 26 years as a state employee and receives Social Security.
But the broader economy seems fairly weak to Muller. A friend was laid off during the recession, then earned a teaching certificate, and yet still can't find a full-time teaching job. And a friend's daughter who recently graduated from college is stuck as an assistant manager of a dollar store.
"I know a lot of people who are struggling and have been unable to find jobs commensurate with their education levels," Muller said. He is supporting Trump, though he sees the major presidential nominees as "the two worst candidates I've ever been given a choice of."
Here's a snapshot of the U.S. economy of the eve of the elections:
___
SLOWER BUT STILL-SOLID HIRING
The job market has provide itself resilient.
Employers have added an average of 181,000 jobs a month this year. That's down from last year's robust 229,000 average. But it's nearly double the monthly pace needed to lower the unemployment rate over time. The number of people seeking unemployment benefits is near a 40-year low — evidence that layoffs are scarce and most Americans are enjoying strong job security.
Blake Zalcberg, president of OFM, a furniture manufacturer in Raleigh, North Carolina, hopes to add nine employees to his 58-person company, including graphic artists, photographers and sales staff. He expects sales to grow by a third next year:
"It's a fairly robust furniture market," he said.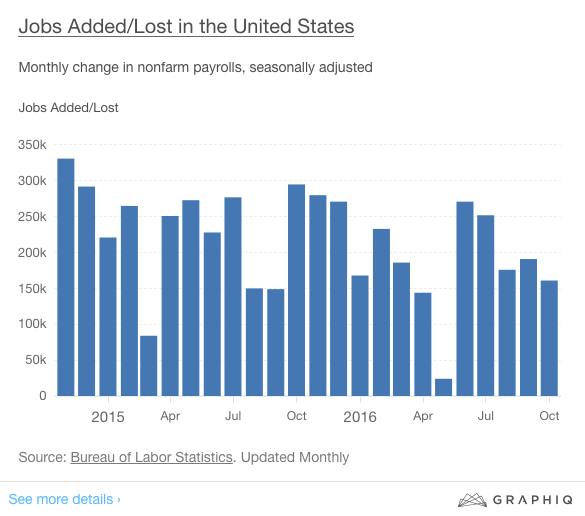 ___
PAY FINALLY ACCELERATING
With the unemployment rate down to 4.9 percent from the a peak of 10 percent in 2009, businesses have been forced to compete harder for new employees. That's giving workers more bargaining power when they seek new jobs and finally boosting pay. Average hourly wages grew 2.8 percent in October from a year earlier — the fastest 12-month pace in seven years. Still, historically speaking, that's still not great. Wages typically rise at about 3.5 percent each year in a healthy economy.
___
CAUTIOUS CONSUMERS
Steady hiring and modest pay increases have emboldened more Americans to buy high-cost items like new cars. Auto sales are running near last year's record pace of more than 17 million vehicles. Yet caution still reigns: Americans' spending grew just 2.1 percent in the July-August quarter, down from a much healthier 4.3 percent in the previous three months.
___
HOUSING HAS NEARLY RECOVERED
The bursting of the last decade's housing bubble wiped out trillions in household wealth, cost more than 5 million Americans their homes and triggered the Great Recession. Yet the home market has mostly recovered, with purchase prices just 7 percent below their 2006 peaks. Greater home values have helped many families recoup some of their lost wealth. Sales of existing homes have plateaued this year at a nearly healthy level of about 5.4 million.
Doug Duncan, chief economist at Fannie Mae, foresees sales growth slowing slow next year. But more younger Americans are starting to buy homes, suggesting that millennials are tiring of living in apartments — or their parents' basements— and are starting to move out.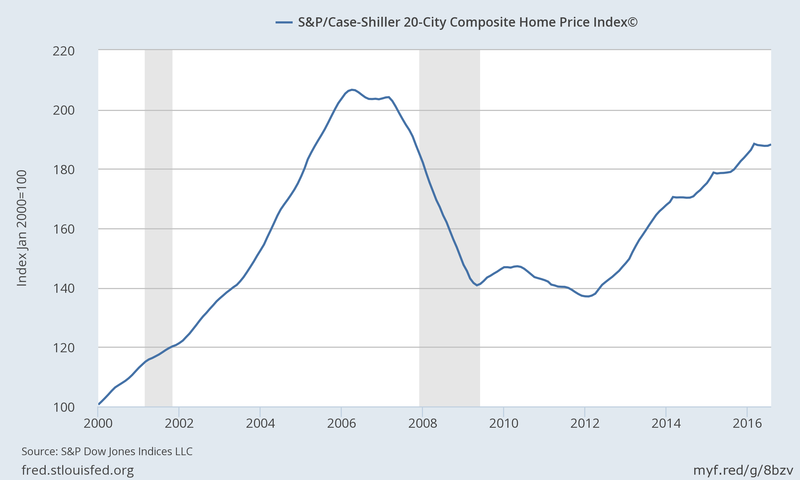 ___
BUSINESSES HOLDING BACK
Companies with optimistic outlooks typically spend more on computers, machinery and other equipment to keep up with demand. Instead, in recent months the opposite has happened: Business investment in new equipment has fallen for four straight quarters. Some of that pullback occurred because oil drillers slashed spending on steel pipe and other gear in response to sharply lower oil prices. But many companies are also likely holding off on new spending until after the election, when potential economic policy changes will be clearer.
___
WEAK WORKER PRODUCTIVITY
The U.S. economy has failed to grow much more efficient. Since the recession began in 2007, productivity — or output per hour of work — has grown at less than one-third the annual pace it did from 2000 through 2007. Rising productivity is vital to raising living standards, because it enables companies to raise pay without raising prices.
Economists blame a range of factors for the slowdown: Americans are starting fewer new companies, which tend to be quicker to adopt new technologies. And weaker investment in roads, ports and other infrastructure has slowed shipping and commuting times.
___
MANY STILL LEFT BEHIND
Millions of Americans haven't benefited from the consistent hiring of the past several years. Middle-income jobs in manufacturing and office work were permanently lost in the recession and have been replaced by lower-paying work in retail and fast food. Many of the unemployed have given up looking for work and are no longer counted as unemployed.
Nicholas Eberstadt, author of a new book, "Men Without Work," notes that this has been a long-term phenomenon. For every unemployed man ages 25 through 54, three others are neither working nor looking for work. That ratio has doubled since 1990.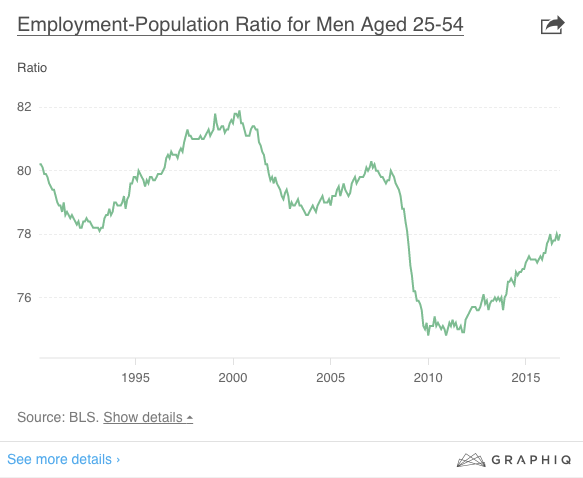 ___
AP Polling Editor Emily Swanson contributed to this report.
___
Follow Chris Rugaber on Twitter at http://Twitter.com/ChrisRugaber
---
AP-GfK Poll: Most believe allegations about Trump and women
WASHINGTON (AP) — Donald Trump's behavior has long grated on Carolyn Miller, but the allegations he sexually assaulted women was one factor that helped her decide in the last week to cast her ballot for Hillary Clinton.
"I don't think she's a bad person. Trump, I think, is a bad person," the 70-year-old Fort Myers, Florida, resident said. As for Trump's accusers, Miller added, "I believe them." And she said her vote for Clinton is "a default."
Miller is among the more than 7 in 10 Americans who say in a new Associated Press-GfK poll that they believe the women who say the Republican presidential candidate kissed or groped them without their consent, a verdict that may have turned off enough voters, including some Republicans, to add to his challenges in the presidential race.
 Forty-two percent of Republican voters and 35 percent of Trump's own supporters think the accusations are probably true. Men and women are about equally likely to think so.
While the poll suggests the wave of allegations about Trump's treatment of women may blunt the impact of voters' concerns about Clinton, it was taken before Friday's news that the FBI will investigate whether there is classified information in newly uncovered emails related to its probe of her private server. Those emails were not from her server, according to a U.S. official who was not authorized to discuss details publicly and spoke on condition of anonymity.
Before the development, the poll found that about half of voters say her use of the private server while she was secretary of state makes them less likely to vote for her. But they were more likely to say that Trump's comments about women bother them a lot than to say the same about Clinton's email server, 51 percent to 43 percent.
Since September, Clinton seems to have consolidated her support within her own party and drawn undecided voters such as Miller to her campaign, or at least pushed them away from Trump. The billionaire's recent trouble with women seems to be one factor preventing him from doing the same.
He feuded with former Miss Universe Alicia Machado after Clinton noted he'd called her "Miss Piggy" for gaining weight while she wore the crown. Days later, a 2005 recording surfaced in which Trump can be heard describing himself sexually assaulting women in a conversation with Billy Bush, then the host of "Access Hollywood."
Several women have since publicly accused Trump of groping and kissing them without permission, including a People magazine reporter who said Trump attacked her when his wife, Melania, was out of the room.
Trump called his remarks on the video "locker room talk," dismissed the accusations as "fiction" and said of several accusers that they aren't attractive enough to merit his attention.
Asked Thursday on Fox News Channel's "The O'Reilly Factor" whether he thinks he would be ahead were it not for the "Access Hollywood" video, Trump replied, "I just don't know. I think it was very negative."
A majority of voters, 52 percent, say allegations about the way Trump treats women make them less likely to vote for him, including a fifth of Republican likely voters. And within that group, only about a third say they will vote for him, with about a third supporting Clinton and the remainder supporting third party candidates.
That may help explain why just 79 percent of Republican in the poll said they're supporting Trump compared with 90 percent of Democrats supporting Clinton. Trump needs to close that gap to have any shot at victory.
Trump has tried to equate the accusations against him with charges of infidelity and sexual assault leveled for years against his rival's husband, former President Bill Clinton. Trump has paraded the former president's accusers before the cameras and accused Hillary Clinton of undermining her husband's accusers.
The poll shows a majority of voters don't buy Trump's attempt at equivalence. Six in 10 say the allegations against the Clintons have no impact on their vote. That's despite the fact that 63 percent think Hillary Clinton has probably threatened or undermined women who have accused her husband of sexual misconduct.
"The vote will be about Hillary Clinton, not her husband," said Ryan Otteson, 33, of Salt Lake City, who's voting for a third-party candidate, conservative independent Evan McMullin.
Valori Waggoner, a 26-year-old from Belton, Texas, said she believes Hillary Clinton probably did intimidate her husband's accusers, but she said it makes no difference to how Waggoner is voting.
Waggoner was not going to vote for Clinton anyway, because as a doctor, Waggoner said she sees firsthand the inefficiency of the national health care plan that Clinton supports. But the alleged wrongdoing by Trump made her less likely to vote for the Republican. Instead, she's backing Libertarian Gary Johnson.
The degree of alleged wrongdoing by the Republican and Democratic presidential candidates, Waggoner said, "are not equal."
Most likely voters in the poll say they think Trump has little to no respect for women, with female voters especially likely to say he has none at all.
Clinton leads female likely voters by a 22 point margin in the poll, and even has a slight 5 point lead among men. In September's AP-GfK poll, Clinton led women by a 17 point margin and trailed slightly by 6 points among men.
___
The AP-GfK Poll of 1,546 adults, including 1,212 likely voters, was conducted online Oct. 20-24, using a sample drawn from GfK's probability-based KnowledgePanel, which is designed to be representative of the U.S. population. The margin of sampling error for all respondents is plus or minus 2.75 percentage points, and for likely voters is plus or minus 3.1 percentage points.
Respondents were first selected randomly using telephone or mail survey methods and later interviewed online. People selected for KnowledgePanel who didn't have access to the internet were provided access for free.
___
Online:
Poll results: http://ap-gfkpoll.com
---
AP-GfK poll: Most Trump supporters doubt election legitimacy
By Jonathan Lemire and Emily Swanson
CHARLOTTE, N.C. (AP) — Donald Trump's dubious claims the presidential election is "rigged" have taken root among most of his supporters, who say they will have serious doubts about the legitimacy of the election's outcome if Hillary Clinton wins, according to a new Associated Press-GfK poll.
Just 35 percent of Trump's supporters say they will most likely accept the results of the election as legitimate if Clinton wins, while 64 percent say they're more likely to have serious doubts about the accuracy of the vote count if the Republican nominee is not the victor.
"Of course I believe it's rigged, and of course I won't accept the results," said Mike Cannilla, 53, a Trump supporter from the New York borough of Staten Island. "It's from the top: Obama is trying to take over the country, he's covering up all of Hillary's crimes and he's controlling the media trying to make Trump lose."
"Our only chance on Nov. 9 is if the military develops a conscience and takes matters into its own hands," Cannilla said.
By contrast, 69 percent of Clinton's supporters say they'll accept the outcome if Trump wins. Only 30 percent of the Democratic nominee's backers express a reluctance to accept the results if the former secretary of state loses on Election Day.
Overall, 77 percent of likely voters say they'll accept the legitimacy of the results if Trump wins, while 70 percent say the same of a Clinton win.
In the final weeks of the campaign, Trump has made doubts about the integrity of the U.S. election system a cornerstone of his closing argument. Asked directly at the final presidential debate if he would accept the election results, Trump refused, saying: "I will keep you in suspense."
That extraordinary statement, with its potential to challenge the peaceful transition of power that is a hallmark of the American democracy, did little to harm him with his base of supporters. The poll found that 44 percent of all likely voters say Trump's stance makes them less likely to support him, but the vast majority of his supporters say it doesn't make a difference.
"He should fight it all the way," said George Smith, 51, a Trump supporter from Roswell, Georgia. "Spend weeks in court if he has to. He can't let it be taken from him. That's his right."
Trump has also repeated inaccurate claims that vote fraud is a widespread problem, and the poll finds that most of Trump's supporters share that concern. Fifty-six percent think there's a great deal of voter fraud, 36 percent believe there is some, and 6 percent say there's hardly any.
Most Clinton supporters, 64 percent, think there's hardly any voter fraud. Overall, just 27 percent of likely voters think there's a great deal of fraud. A third of voters overall believe there is at least some, while 38 percent say there is hardly any.
While there have been isolated cases of voter fraud in the U.S., there is no evidence of it being a widespread problem. In one study, a Loyola Law School professor found 31 instances involving allegations of voter impersonation out of 1 billion votes cast in U.S. elections between 2000 and 2014.
Beyond allegations of fraud, 40 percent of Trump supporters say they have little to no confidence that votes in the election will be counted accurately. Another 34 percent say they have only a moderate amount of confidence, and just 24 percent say they have a great deal or quite a bit of confidence in the vote count.
Among Clinton supporters, 79 percent say they have a great deal or quite a bit of confidence in the vote count's accuracy. Many believe Trump should voice support for the electoral system even in defeat.
"Be an adult. Accept the results," said Shavone Danzy-Kinloch, 37, a Clinton supporter from Farmingville, New York. "If the shoe was on the other foot, he'd expect Hillary to do the same."
Trump's supporters are also more likely than others to say they are concerned about hackers interfering with the election. Forty-six percent of them are extremely or very concerned and 37 percent somewhat concerned. Overall, 32 percent of voters say they're extremely to very concerned and 39 percent somewhat concerned. Among Clinton supporters, 60 percent are at least somewhat concerned.
Although the poll shows many Trump supporters would have doubts about a Clinton win, the poll shows relatively little acute concern that claims of inaccuracy and voter fraud could prevent Americans overall from accepting the results. Just 30 percent of likely voters are extremely or very concerned about that, while another 40 percent are somewhat concerned.
Twenty-nine percent say they're not very or not at all concerned.
"If she wins, we're all going to have live with it," said Daniel Ricco, 76, a Trump supporter from Milford, Connecticut. "It won't be good for the country, but there's nothing we can do."
___
The AP-GfK Poll of 1,546 adults, including 1,212 likely voters, was conducted online Oct. 20-24, using a sample drawn from GfK's probability-based KnowledgePanel, which is designed to be representative of the U.S. population. The margin of sampling error for all respondents is plus or minus 2.75 percentage points, and for likely voters is plus or minus 3.1 percentage points.
Respondents were first selected randomly using telephone or mail survey methods and later interviewed online. People selected for KnowledgePanel who didn't have access to the internet were provided access for free.
___
Online:
Poll results: http://ap-gfkpoll.com
___
Swanson reported from Washington.
___
Follow Jonathan Lemire and AP Polling Editor Emily Swanson on Twitter at: http://twitter.com/JonLemire and http://twitter.com/El_Swan